Полиция Новой Зеландии сообщила о гибели пяти человек в результате извержения вулкана на острове Уайт-Айленд. Эта информация была обнародована в ходе брифинга, посвященного оперативной ситуации после чрезвычайного происшествия. Ее транслировал телеканал Television New Zealand.
«К сожалению, я могу подтвердить, что пять человек погибли во результате извержения на острове Уайт-Айленд», — заявил заместитель комиссара штаба гражданской обороны Джон Тимс.
close
Полную галерею можно посмореть
в отдельном репортаже
Смотреть фото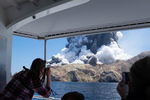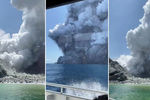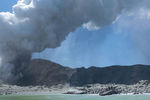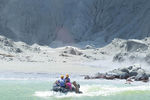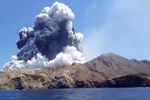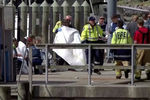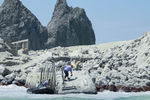 По предварительным данным, тела погибших были эвакуированы с острова в первые часы после извержения. В больницы также были доставлены еще 18 человек, они получили травмы различной степени тяжести.
Согласно заявлению премьер-министра Новой Зеландии Джасинды Ардерн, в момент извержения на острове или рядом с ним могли находиться около ста человек. Ее слова приводит телеканал TVNZ.
«Некоторые пропали без вести», — подчеркнула Ардерн. По ее словам, в городской больнице округа Вакатана уже действует центр экстренного реагирования и штаб сил гражданской обороны.
В службе скорой помощи Новой Зеландии также уточнили, что для первого этапа эвакуации людей и дальнейшей доставки их в больницы были задействованы 11 вертолетов санитарной авиации и 12 машин скорой помощи.
«В аэропорту Вакатана и на базе береговой охраны города были созданы специальные пункты для быстрого осмотра пациентов и принятия решения о дальнейшей тактике. В ближайшие дни мы продолжим оказывать поддержку всем пострадавшим и осуществлять оперативные задачи», — говорится в сообщении службы.​​​
Позже полиция Новой Зеландии также опубликовала заявление, в котором говорилось, что во время происшествия на острове могли быть менее 50 человек. Как предполагают сотрудники правоохранительных органов, сейчас на Уайт-Айленде остаются 27 туристов. Узнать об их судьбе невозможно — связи с островом нет. Тем не менее, в полиции уже высказали уверенность, что выживших на острове не осталось.
«Исходя из имеющейся информации, мы считаем, что на острове не осталось выживших. По убеждению полиции, все, кого можно было спасти, были эвакуированы с острова», — сообщили в органах.
Как сообщает австралийский портал 9News, в числе туристов, находившихся на острове в момент извержения, были новозеландцы и иностранные туристы — в частности, группа пассажиров круизного лайнера Ovation of the Seas. Кроме того, на Уайт-Айленд находились 24 гражданина Австралии. Сейчас власти страны выясняют их судьбу, сообщил премьер-министр страны Скотт Моррисон.
Посольство России в Новой Зеландии опубликовало на своей странице Facebook список мер предосторожности для россиян, находящихся в зоне бедствия. «В связи с извержением вулкана на острове Уайт посольство настоятельно рекомендует соотечественникам, находящимся в районе бедствия, строго следовать рекомендациям новозеландского Национального агентства по чрезвычайным ситуациям», — говорится в сообщении. Дипломаты также отметили, что опасность от извержения вулкана сохраняется в большом радиусе от эпицентра.
Сейчас работа спасателей осложняется тем, что всю территорию острова покрывает внушительный слой пепла.
Как сообщается на официальном сайте полиции Новой Зеландии, поисковая операция в районе вулкана начнется не ранее утра по местному времени — около 19:00-20:00 по Москве. «У полиции не будет возможности попасть на остров в течение ночи», — указано в сообщении.
По данным национальной геослужбы Новой Зеландии, извержение вулкана началось около 14:15 по местному времени (04:15 мск). Тогда уровень вулканической опасности был повышен до четвертого, что означает опасность извержения в непосредственной близости от вулкана. Код авиационной безопасности был изменен на оранжевый. Сейчас воздушное пространство над вулканом закрыто.
По словам специалистов геослужбы, произошедшее извержение было импульсивным и коротким.
«Данные мониторинга свидетельствуют, что извержение выбросило в воздух столб пепла высотой около 3,6 тыс. метров, и в настоящее время его активное выпадение продолжается над всей территорией острова. Сейчас мы на наблюдаем устойчивое снижение активности, но значительная неопределенность в отношении будущих событий сохраняется», — сообщил дежурный вулканолог Джефф Килгура.
Сейчас Уайт-Айленд является единственным активным вулканическим островом Новой Зеландии, открытым для посещения туристов. Ранее он извергался в конце 2012 года.